The Lincoln Chapel Story:
I have longed to be able to express the artistic side of my brain for as long as I can remember. Growing up, I felt I was a little different, an outsider looking inward and seemed to look at things from a different viewpoint than that of my friends. I'm sure every teenager feels that way to some extent. I went to college for fine arts before heading into communications but suffice it to say, that my brain is hard-wired to think abstractly.
When Steve and I went about designing the pavilion for our wedding venue Kindred Oaks, my mind raced with all the curves and swoops that I envisioned for our receptions and Steve's mind raced with visions of holes in our wallet. And then reality finally set in. We could not afford my champagne dream but we were able to create our beautiful Texas stone & steel pavilion that countless couples have celebrated their receptions in for over 11 years. This, after using a white tent that leaked when it rained for almost 2 years and before that, nothing but blue skies.
When it came time to build a chapel, again my mind raced to create something that spoke to my artistic heart. Something with more modern lines, more architecture, more expression.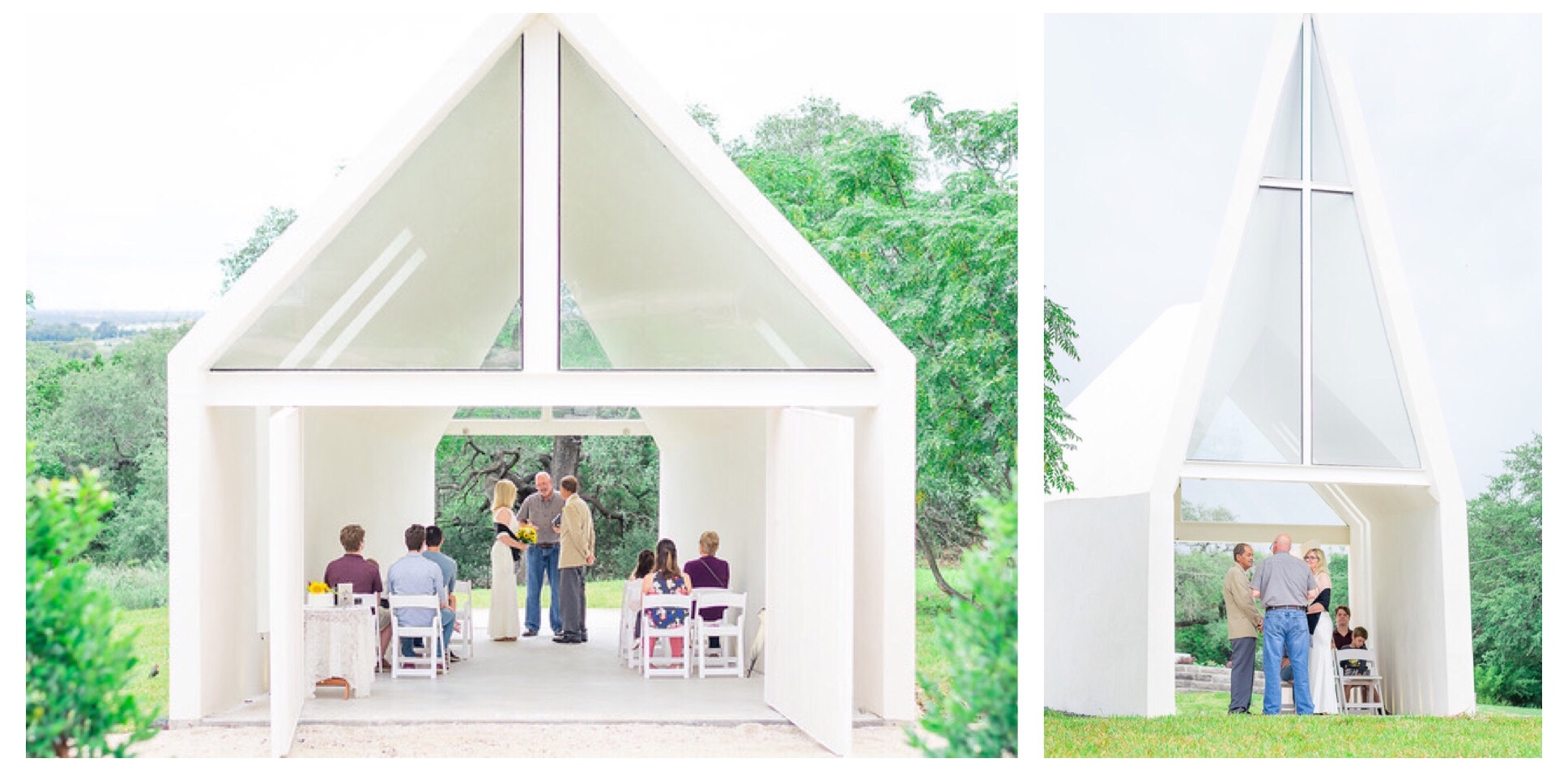 I still had dreams that were bigger than the funds to create them but I figured if we kept it small enough, we might be able to achieve a small sip of that lofty goal. I loved the historical aspect of grand structures like the Mayan Ruins and the Pyramids and how they took hundreds of years to build but still exist today. I wanted something with strength, something that might outlast our lives. I wanted something of purpose, whose completion was more a beginning of something, not an end.
We found our inspiration in a chapel located in Austria and it was so profoundly simple, so small, yet exquisite. The designer of our chapel, Nicole Blair of Studio 512, took this vision and with Erik Untersee of Hive House LLC, created what is now Lincoln Chapel. It has taken a lot of sacrifice, angst, patience, resolve and grace to get to this place in time and one day we will look back and see that God will have used it according to his plan, not ours. We've done our best and we've given this sweet structure a soul.
This 27ft tall chapel with only 423 square feet of interior space, was constructed using a process called a monolithic pour of concrete. Essentially, over 400,000 pounds of concrete were poured into a literal wooden mold. The amount of pressure being applied in that structure was astounding, even for the structural engineer & concrete company, requiring a new assessment, nerves of steel & subsequent plan of action. It is an extraordinary feat of accomplishment and the architectural establishment is so far impressed. At any rate, the structure is a work of art, it is built from the hands of artisans and not fabricated in any way.
A final touch of beauty was applied in the way of an outer skim coating, a hand applied concrete finish. This company that did the work is owned by a couple who got married here 14 years ago. The application of this coating was an incredible example of unconditional giving, a true gift from God and it was essential to the chapel's completion. A mere verbal thank you to Primewall Systems will never suffice but I am dedicated to learning that level of giving and paying it forward in kind.
To the couples who choose to say their vows inside the walls of Lincoln Chapel, it will be an intimate, and sacred experience. It will capture their individuality in every way. Our general contractor Erik said that the Chapel is a 1000 year building, meaning that it isn't going anywhere anytime soon, certainly longer than we will be around.
My husband Steve and I got to christen the chapel on September 23, 2018, with the renewing of our own vows, originally spoken over 16 years ago, about a year before we created Kindred Oaks. We had our children and grandchildren as witnesses and our dear friend Joey spoke the Word of God into the life of this dear chapel and blessed our commitment to one another.
The Chapel is a labor of love, born of a giving spirit, of tenacity, of an entrenched desire to honor God. We hope generations of couples will abide by their commitments set forth here, from this day forward.
<3 Elaine & Steve