This blogging thing has always kind of tripped me up. I've written a monthly newsletter for years but it's only once a month, I pretend I am writing in a journal so that the 'public' noise doesn't interfere with my head, and I just write about anything that pops into my head that month. It is part wedding, part emotion and part learning from the past what I can learn for the future. It sometimes has an element of faith woven in; not to alienate or preach, but because it's simply part of who I am. I think the blog will have elements of what I've always done, but paired with more useful wedding related material that will help with wedding planning. However, you be the judge; let me know what you want to read and I'll do my best to oblige.
Every single couple who books a wedding with us is sent a Get-to-Know-You form with some random questions that allow us as a staff/team to learn a little bit more about our couples beyond what their colors and date are. It helps me connect with them on a personal level because I'm a firm believer that we all have stories to tell and I enjoy listening to those whose lives are different than mine because it lets me see how vast our world is and yet so incredibly small at the same time.
So who am I? Well, first off; I am a mom. All kinds of Mom. My 'kids' are 29, 24 & 22. They were 7, 2 & 1, just yesterday I swear. I will celebrate my 53 birthday this week and while I don't relish looking 53, I really do love being 53. When I started this business 12 ½ years ago, I was somewhat newly remarried myself and now I am a grandmother! So I've gone from being a bride, to a mother figure to 80-95 couples a year and I'm so grateful for that moniker. I am mostly content. I love to laugh and I love to educate. I forever have blonde moments even though my once natural light locks now come from a bottle. I once was a professional photographer back in the 80's, I'm a longhorn – class of '89 (yes I was on the 8 year track) and bleed burnt orange (my daughter bleeds maroon), I'm a 6th generation Texan and I am a wife to a man who treats me like a queen.
I've been in the wedding industry longer than the 'industry' has been in weddings. I never, in my wildest dreams, thought I'd be doing what I do, not to mention how long I've done it. At the end of 2016, we should see our 1,000th wedding in just over 13 years. That's a LOT of weddings. I don't say that with ego, it's just a statement of what is. When you do anything 1,000 times, you become a pro at it. You understand what does and what does not work. I may not be the best authority on weddings everywhere, but I am pretty dang savvy on weddings in this neck of the woods. However, even with that much experience, most of what I write is my own opinion and not gospel truth. You can take it or leave it. I just hope you find something useful, something funny or a reason to come back.
In the meantime, enjoy these pictures. We asked for engagement pictures to post along with this post. The first is of Danielle & Nick, who live in Hawaii but getting married here in a couple of weeks. Bring some beach with you!! Ha! The second is of Hailey & Josh, getting engaged at a Spurs game; what a rush! Two incredible stories to tell; four lives entwined. This is why I do what I do. Love it!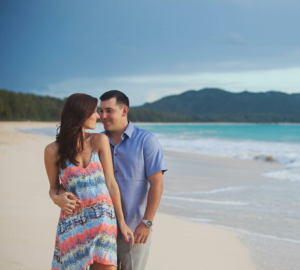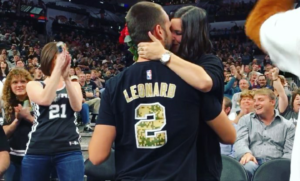 Taking it all in,
Elaine